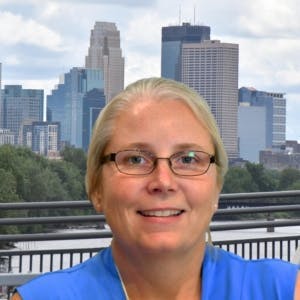 Contact
Email: Jennifer@BridgeAttorneys.com
Jennifer Manthana - Bookkeeper
Jennifer gets real joy out of life when she watches her children play basketball or soccer. It's her favorite way to take advantage of her "free time," something rare when you have four kids, pets, a job, and a home. Jen says that it's her kids that she considers her finest accomplishment. On the other end of a very bright spectrum, Jen treasures her parents and grandparents. "They made me the person I am today. I learned values, and love, and how to enjoy life from them." Jen treasures time away with the family at their family lake cabin.
Jen realized she had an affinity for numbers in her accounting classes in high school. "Being a practical, detail-oriented person with a good memory, I decided to major in accounting in college. Those same qualities help me in my job. I just wish my memory was still as good as when I was younger!"
When asked about her home, again Jen had something to say we can all take to heart: "I was born in St. Croix Falls, WI, but really home for me is where my family is…no matter where that is."
Jennifer lives in Rockford, MN with her husband and four kids.